Once the #4 button broke on my old Razr, it became clear that I was going to need to get a "real" phone. I decided to either get the hip, ever popular, iPhone or an Android device. After reading up on the subject, it became quite clear that Android was the right platform for me. I wouldn't say it's better that iOS, in fact its lacking in several ways, but it was definitely the right choice for me. I decided to go with the HTC EVO because Sprint had the cheapest plans and it was the newest Android phone and has incredible specs. I've had the phone for eight months now, and I'm writing this because I just upgraded to the latest Cyanogenmod 7 nightly build of Gingerbread and I've completely fallen in love with this phone all over again. Right now it's absolutely perfect.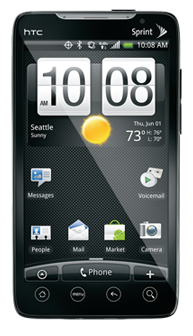 Evo specs:
Screen Size: 4.3″ Capacitive Touchscreen
Screen Resolution: 480X800
CPU: 1GHz Snapdragon
Memory: 1GB ROM; 512MB RAM (8G microSD)
HDMI out
Front facing VGA camera
8.0MP camera w/

Auto-focus w/dual LED flash
Geotagging
720p HD video recording

Radios: 3G, WiMax, WiFi (B,G,N), GPS, Bluetooth, FM radio
Here's what I use my phone for:
Phone, texting, alarm clock, calendar, email, internet, tethering 4G wired & wifi, GPS navigation, MP3 player, VPN & token, SSH client, banking (bill pay & check deposits), dropbox, irc, camera, Kindle, bible, Sudoku, blogging, notes, voice recorder, docscanner for expense reports, you tube, flash light, an occasional game, TV remote, etc.
I could do pretty much all of that from an iPhone, but I love being able to open a terminal and play w/ things like stunnel or iptables right there on my phone! It's also much easier to use things like openvpn, because it's basically just Linux under the hood. Anyway, I'm really only writing this post so I can look back at it in ten years and say to myself, "That's so lame. Why did I think that was so great?"
Cheers,