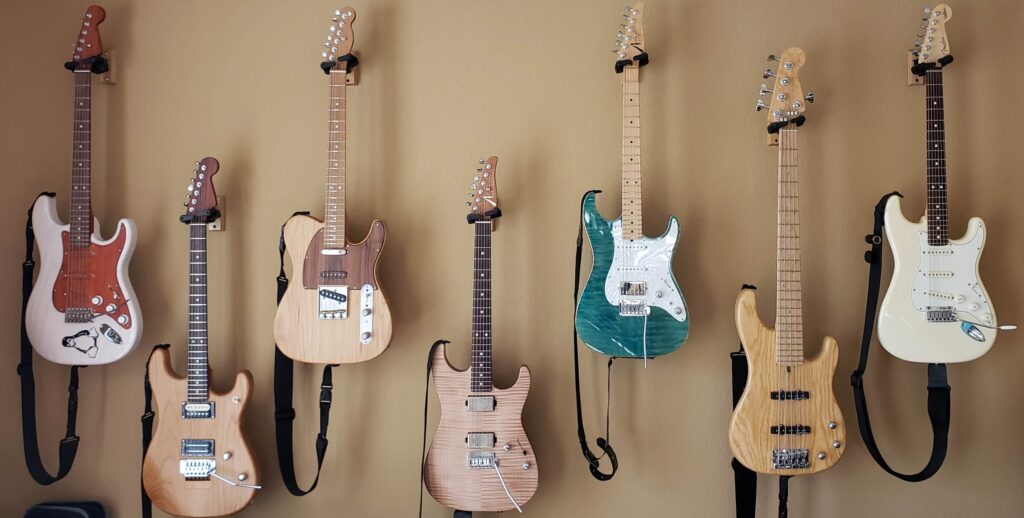 Tom Anderson Hollow Drop Top Classic

This has been my main guitar for over two decades. It has a fairly thick (.05 oversized) maple neck and a hollow alder body w/ maple top. The tone is fantastic and it doesn't look bad either. In 2013, I replaced the pickups with Dimarzios (Air Classic Neck in the bridge and Area 58s in the middle and neck). Honestly, I would be fine if this was the only guitar I owned. Fun fact: the serial number is my 21st birthday followed by the letter 'b' for Ben!
Tom
Anderson

Cobra S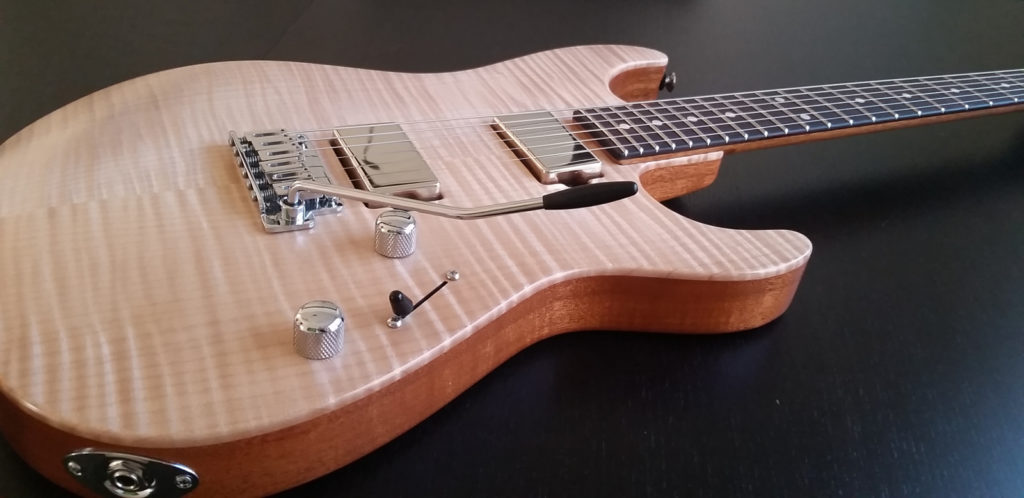 This is little beauty sounds as good as she looks. What's cool about this guitar is it has a lot of Les Paul qualities and tone, but plays like an Anderson. Spec wise it's a solid, one-piece mahogany body & mahogany neck with their "happy medium" profile. The finish is a silky smooth, natural satin on a gorgeous "non-thin" flame maple top. Heavy stainless steel frets sit on a rosewood fingerboard with the shorter 24 3/4″ scale. This one has vintage, PAF style pickups. The wiring brings six different sounds (push/pull tone pot splits the pickups in position 3 of the 5-way), and is surprisingly flexible for a 2-pickup guitar. This one also has a vanity serial number for my wife's 35th birthday followed by her first initial. ….it's the little things in life.
Warmoth Super Strat (N4 Inspired)

This guitar was my attempt to combine a Washburn N4 with a Guthrie Govan Charvel. The body is solid alder with a light tung oil finish. The neck is unfinished paduak with an ebony fingerboard. It sports a non-fine tuner Floyd Rose with a large brass block and Gotoh locking tuners. I did the electronics very similar to the N4: Bill Lawrence (Wilde Pickups) L500-XL & Duncan '59 with a toggle switch on the lower horn. I added a tone pot, but I modified it to be "no-load" when maxed. Both pots are push/pull to set each pickup in series/parallel independently. It has stainless steel frets and despite the goal of being a shredder guitar, this is a really versatile instrument with a great tone.
Fender Jeff Beck Stratocaster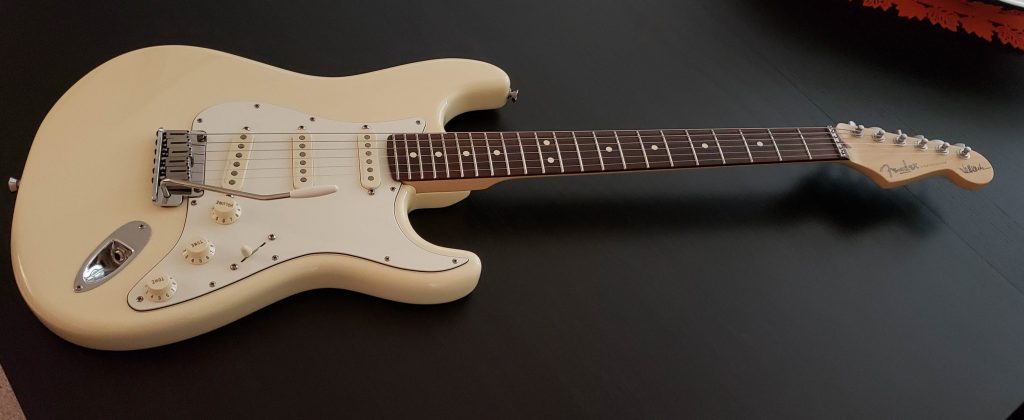 This is a stock 2006 model that I got as a 40th birthday present. I love this "modern" era of hardware on strats. The tremolo works incredibly well and let's be honest, LSR roller nuts just look awesome and work well enough. The ceramic noiseless pickups measure at ~9.7 and sound fantastic. The sculpted heel is a nice touch, and I wish Fender used it on more of their models.
Warmoth Strat

This is my third Warmoth piece. The body is chambered swamp ash with a Mary Kay finish. The original neck is a one-piece, bird's eye maple with a "fatback" contour. In 2021 I replaced it with a standard this profile paduak neck with a pau ferro fretboard. It sports 22 stainless steel 6150 frets, tusq nut, Gotoh locking tuners, and no finish at all. The pickups are all Dimarzio: HS-2 in the bridge, Area 58 for the middle, and another HS-2 in reverse polarity. The HS-2s are wired in single coil mode a la Eric Johnson and sounds amazing. I've tweaked the tone knobs so the bottom one is dedicated to the bridge pickup and the middle one controls the neck and middle pickups. The 5-way is wired up for B, B+M, B+N, N+M, N – hence the reverse wound HS-2 in the neck for a hum-canceling "tele" sound in position 3. The bridge is the Gotoh S510 six screw model; worth every penny. It's a beautiful guitar and a blast to play.
Charvel DK24 Mahogany HSH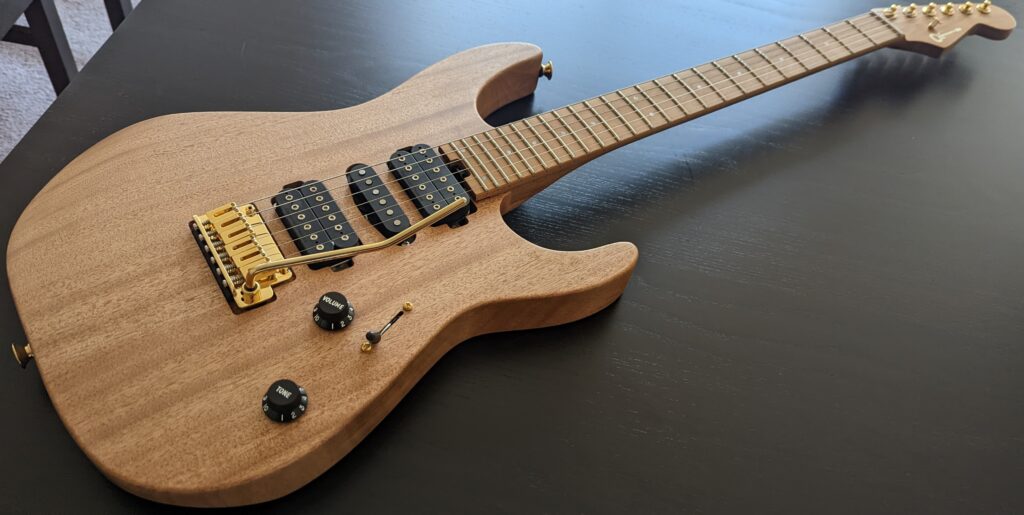 Yet another "super strat" in the collection. This is a basic made in Mexico version of the DK24. I love the raw natural finish, or lack there of on the roasted maple neck. The grain on this particular one is really nice and helps camouflage the 3-piece body to a degree. It's a really fun guitar to play on and all stock …..for now.
Warmoth Tele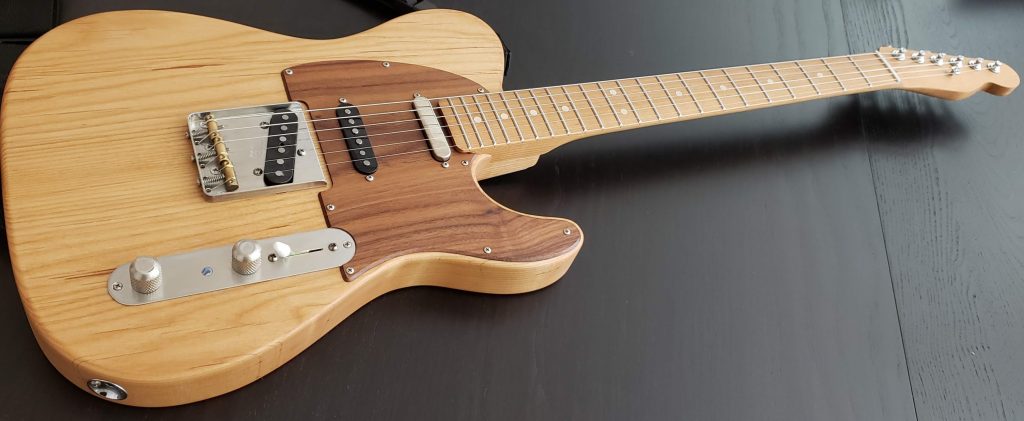 This is my fifth attempt at a Warmoth build. I wanted to see if I could recreate the greatness of my N4-ish super strat and get similar results with the same oil finish on alder. It's a light 2-piece body w/ a one-piece roasted maple neck with a compound radius fingerboard. The neck and bridge pickups are old Dimarzio Twang Kings and the middle pickup is a Van Zandt Blues. It's wired w/ a two-pole, 5-way switch which functions like a typical strat, except the middle position retains the traditional tele neck+bridge config. It also features a gorgeous walnut pickguard, locking tuners, compensated brass saddles, and reliced hardware. This is the first guitar I've owned that has been PLEK'ed – worth it!
Klein Copy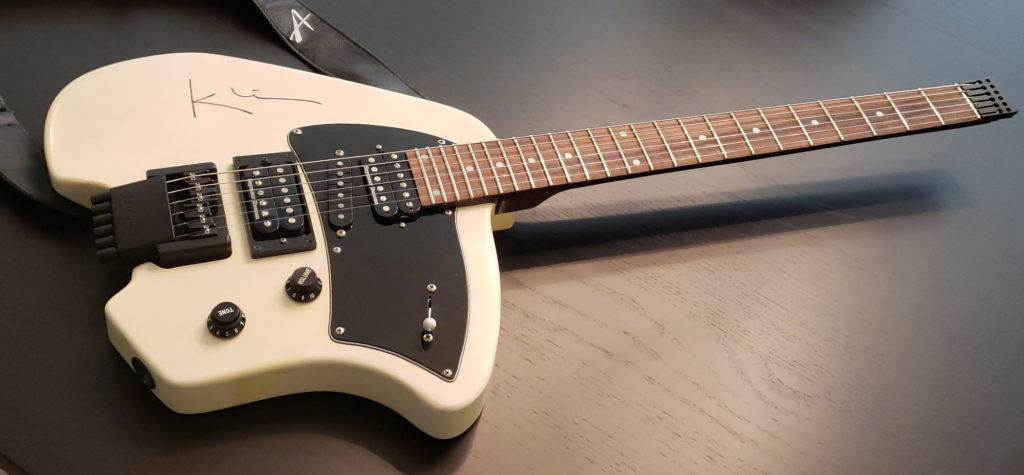 This is a Klein kit I finished and assembled in the Spring of 2015. All of the hardware was upgraded from what was included in the kit. It sports Duncan '59 & Jazz humbuckers (splitable with push/pull tone pot) and a Dimarzio Area 61 in the middle. The bridge is JCustom FXBridge and the headpiece is also JCustom. I refretted it with Jescar jumbo frets. The ergonomic design of the body makes this one of the most comfortable guitars to play and sounds incredible too. One of my favorite details about this build is how well my wife forged the Klein logo on the guitar. I think it's hilarious that it's written with a sharpy, but it looks *perfect*. This guitar will never be sold, as selling fake things into the market is a sorry thing to do. It's just for fun, and because I can't justify the money for a real one. …..yet.
Warmoth Deluxe 5 Bass
This is my second attempt at putting together a Warmoth project, and I've been incredibly pleased. It's a 5-string P-bass body w/ Seymour Duncan 67/70 Jazz bass pickups. Both the swamp ash body and maple fingerboard are beautiful and the bass has a brilliant natural resonance that I love. This instrument has furthered my obsession w/ maple fretboards. Other features include stainless steel frets, Takeuchi T5 bridge, Hipshot string retainer, shielded electronics cavity, and a push pull tone pot for series/parallel wiring.
Chris Carrington Classical
This is a fantastic classical built by local luthier and guitarist extraordinaire, Chris Carrington. This is guitar #110 that is still pictured on his site under the "sold" section. It has a couple cracks that have been repaired, but it really is a fantastic piece. If I had the cash I would order another one without hesitation.
Taylor 814ce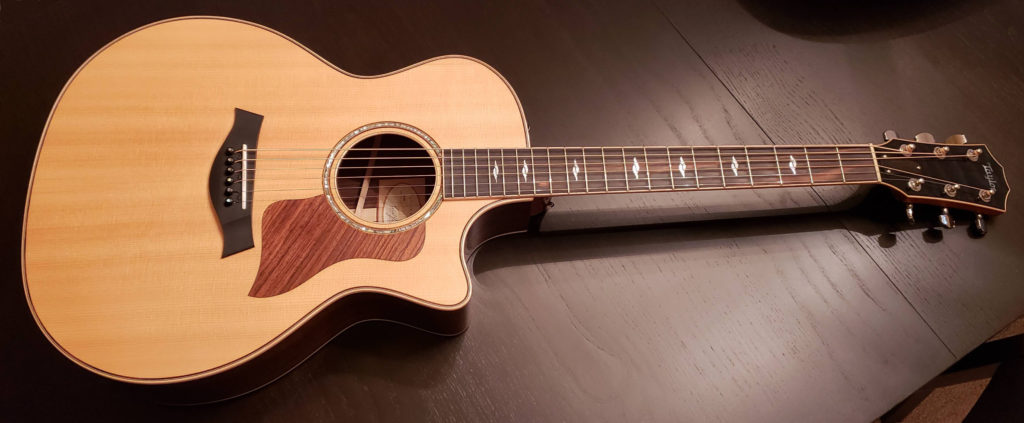 This little beauty was a Craigslist find. It's a 2017 model with all the standard features. The guitar has a beautiful clarity and balance that makes it really satisfying to play. Aesthetically, I also really like the look of the smoky ebony fingerboard and the rosewood pickguard. This is a wonderful guitar.
Naylor Duel 60 w/ 1×12 cab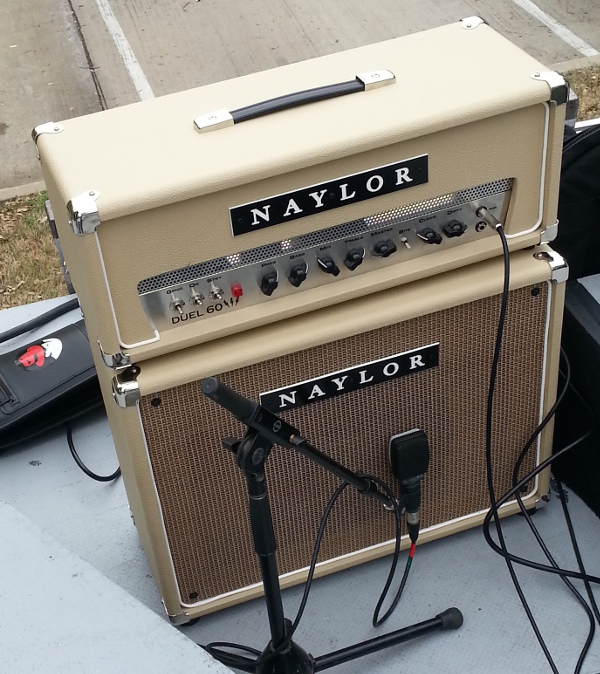 This is my favorite amp. What I love most about it is it always sounds good regardless of where the knobs are set. That may sound silly, but once you get used to something that never sounds bad it's tough to use another amp. In my experience most amps have "sweet spots" that you have to dial in. That's just not the case w/ the Naylors. If you haven't heard or played one you're missing out. I'll never forget the reaction of the front of house engineer for one of my regular gigs the first time I brought this out. I played three quick chords on my strat and the guy freaked out (in a good way). His response was something like, "OMG!!! This thing has some BALLS!!!!" Over a decade later, it has definitely stood the test of time and there's nothing more I could ask for in an amp.
Bogner Ecstasy 101B w/ 4×12 cab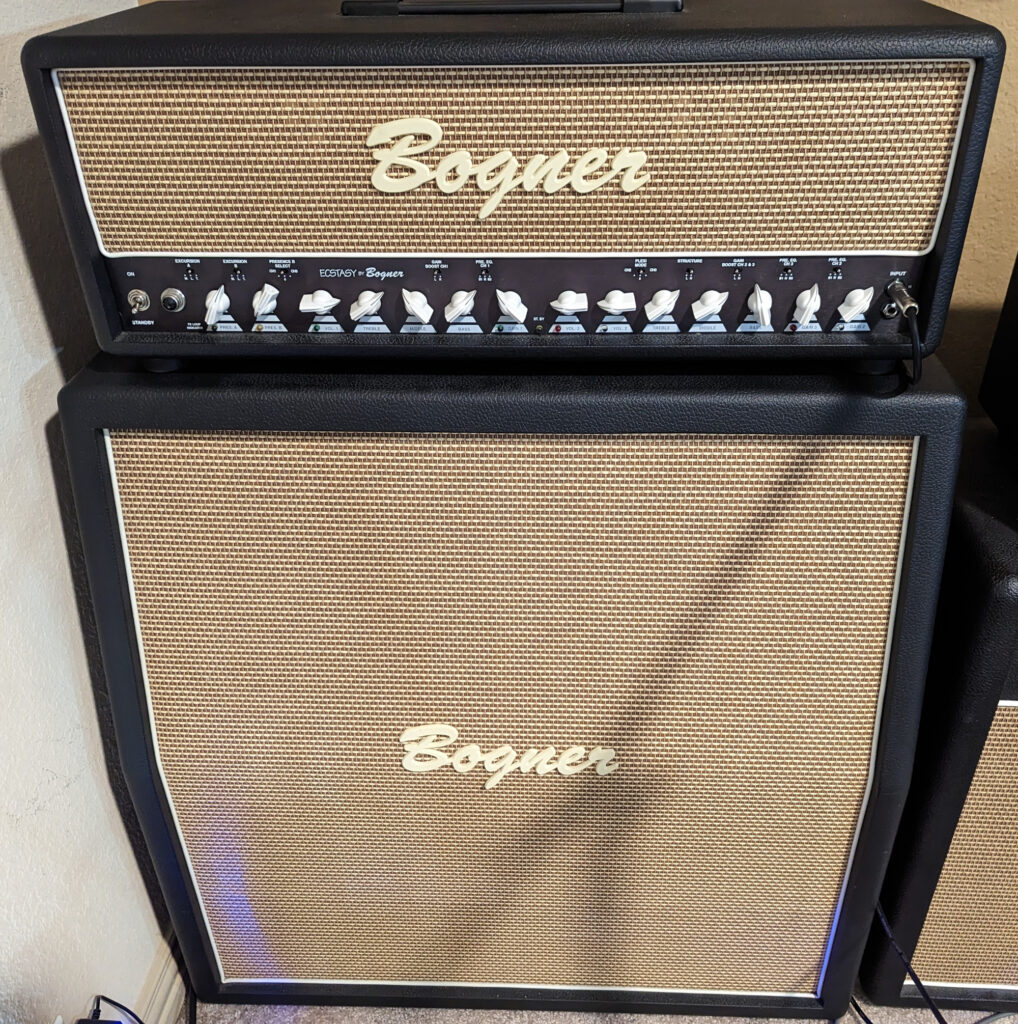 I've wanted an Ecstasy since I was a teenager, and despite the fact that it's an impractical amp to gig w/ in 2023 (size, volume, weight, etc), I've been having a blast playing this beast at home. It sounds crazy good. I really like all three channels and it has, and the plexi mode is surprisingly good. I didn't realize how much I missed having a full-sized 100 watt half-stack until I got one. It's such a great feeling to move this much air.
Bogner Shiva 6L6 w/ 2×12 cab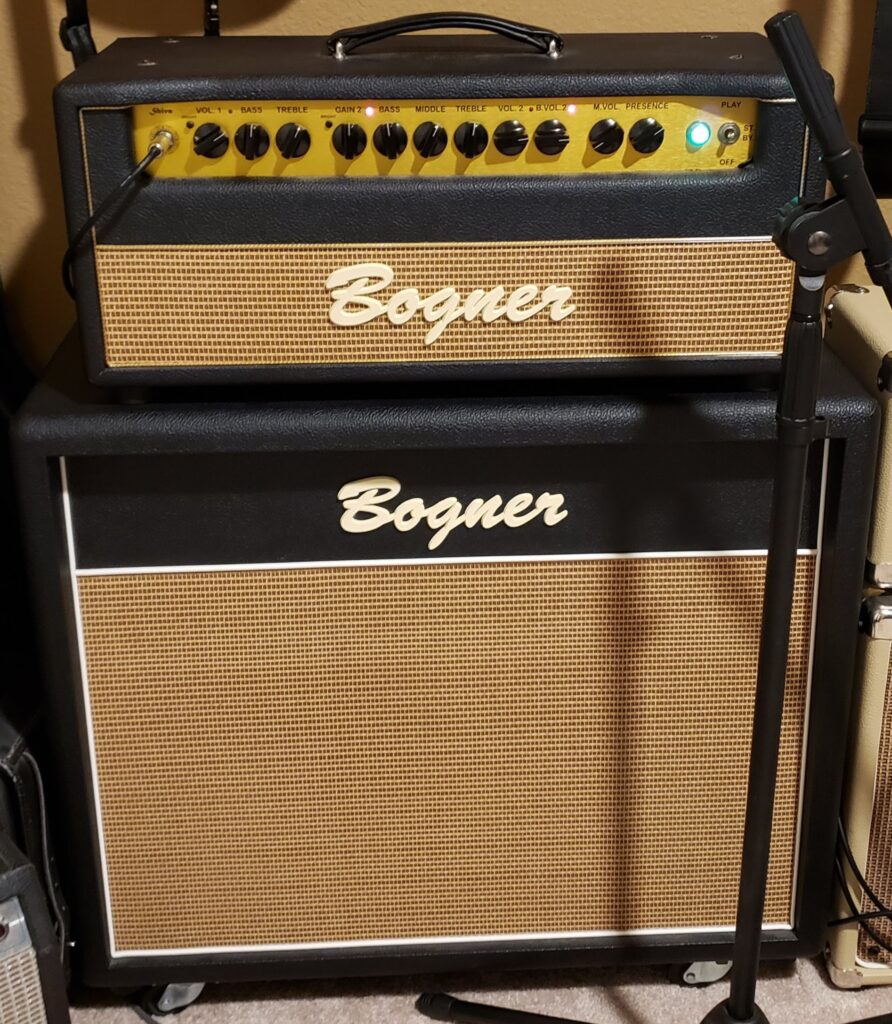 Who doesn't love Bogner amps?! The Shiva is a classic, simple, no frills, killer 2 channel amp. It's crazy loud and has a lot of mid-range punch. The Naylor is still my number 1 amp, and while it's a very "refined" sound, this one is more of a raw beast! I used to have an older EL34 combo which was also great. I can really appreciate the improved loop, bright switches, and adjustable boost on this model. All things equal, I'm not sure which power tubes are my favorite in this amp, but I've really been enjoying the 6L6 model.
Kemper Profiling Amp (w/ power amp + Remote)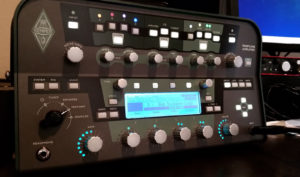 The Kemper is a truly amazing piece of gear. I use it almost exclusively for recording and most of my gigs. While the unit is best known for it's amazing amps tones, the effects are really good too. I used to run my pedal board in front of it, but now that I have the foot controller (aka the Remote), the Kemper is pretty much all I use as it does everything well. More recently I've added a small 1×12 cab with the Kemper Kone to capture "in the room" sounds. I love using this setup.
1974 Fender Champ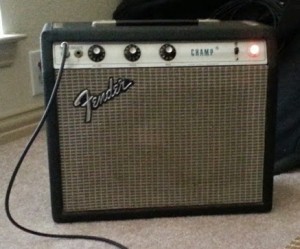 This amp used to belong to a long time family friend and it was given to me as a gift. Honestly some days absolutely nothing beats the simplicity of just running a tele into a Champ w/ the knobs cranked. I really enjoy this one.
ADA MP-1

I still love the sounds of this preamp. All three voicings get a lot of great sounds and the included chorus is really nice as well – even though I'm not really into chorus. It's so fun to fire this up. Here's a poorly recorded clip to hear it.
My Pedal Board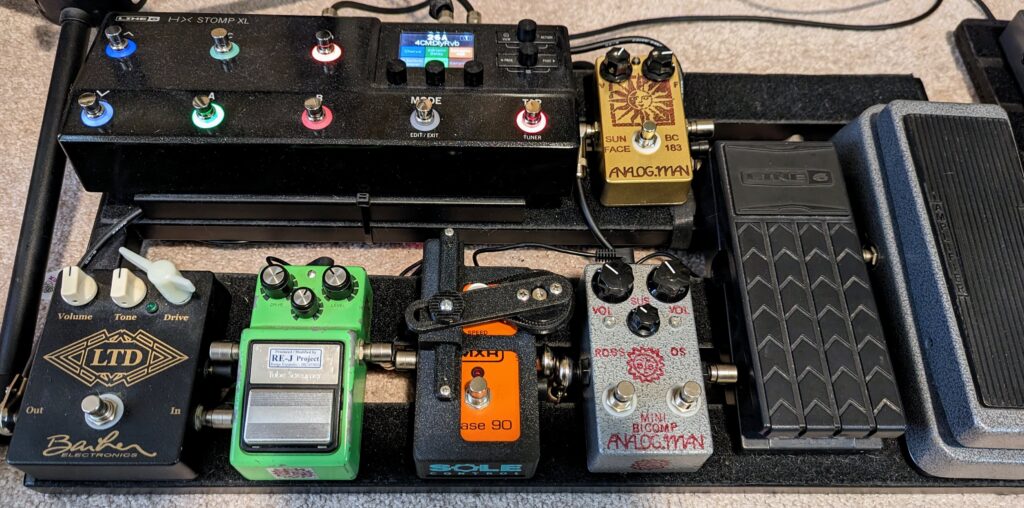 This board has been relatively static for the past few years, but I finally upgraded my Line 6 M9 and switched to the Helix HX Stomp XL. I wire the Helix using the 4-cable method and mostly use it for delays & reverb in the loop. It also makes a great back up if an amp were to ever fail and running direct is an option. I enjoy the various combinations of stacking the TS-9 or Bi-Comp in front of the LTD. There are a surprising number of combinations available. With clean amps I tend to leave the LTD on a lot.
The signal path is:
RMC3 Wah from Geoffrey Teese
Analogman Sunface w/ Silicon BC-183 transistors
Mini Bi-Comp by Analogman
MXR Phase 90 w/ Sole Control Fader
TS-9 Ibanez Tube Screamer w/ Analogman Silver mod
Barber LTD SR
Line 6 Helix HX Stomp XL
Canare cables w/ Switchcraft plugs
Outside the signal path:
Line 6 volume pedal
Voodoo Lab Power Pedal 2 Plus
Shoestring Studios (home office)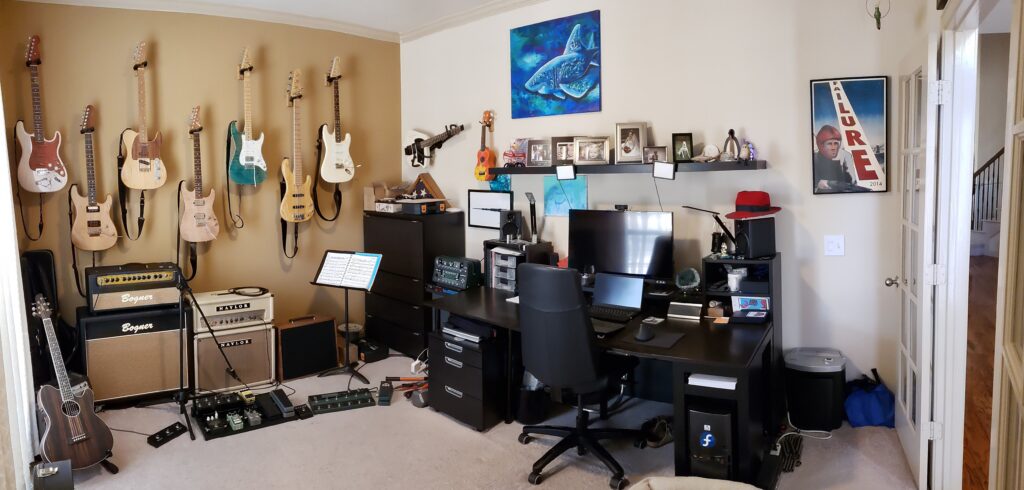 For recording I use the latest version of Fedora with the realtime kernel from planet CCRMA on my PC. I use a combination of Ardour, Mixbus c32, and occasionally Logic Pro for DAWs. For drums I either use Hydrogen or the drummer from Logic. My interface is a Focusrite 2i4, M-Audio monitors, two MXL condenser MICs, and a Sure SM-57. I typically mic acoustic guitars and run electrics through my Kemper. I do still enjoy mic'ing my tube amps, even though it's not as convenient. The recording side is mostly entry-level equipment that can get the job done.