Songs For My Father – March 24, 2018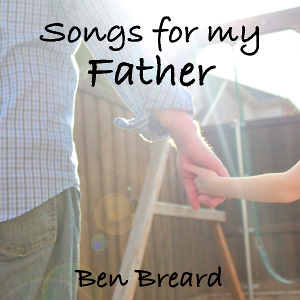 I used Distrokid to distribute the digital copies, and unfortunately, the liner notes don't display in the online stores. I'm including them here:
Click to show Liner Notes

Two years ago, I woke up early on a Saturday morning and recorded 'Tis So Sweet. I was so pleased with the track, that I was inspired to work on this collection of hymns. My goal was to create a fresh interpretation of the music, while staying true to the original spirit of the hymns. I hope you enjoy listening to these songs as much as I enjoyed creating/recording them. This music is intended to be listened to at a high volume; please turn it up and enjoy.

Special thanks to my Lord and savior, my lovely wife and family for their support, all my friends who tolerated months of listening to rough mixes and providing feedback, Bruce O'Leary for the engineering work, and all the musicians I've played with over the past 25 years; thank you for teaching me so much.

Mixing & Mastering by Bruce O'Leary

Mechanical licensing of copyrighted materials through Harry Fox Agency, New York.

© 2018 Ben Breard All rights reserved. Unauthorized duplication is a violation of Federal Law.

Holy Holy Holy

I think I finally captured the laid-back Donald Fagen groove from songs like "Snowbound". This is by far my favorite track on the record, and I love how the three bar chord progression sits over eight bar phrases. I also really love how the solo turned on this one too. It reminds me of George Benson meets Mark Knopfler.  The rhythm part is my strat w/ the neck+bridge (tele sound) and the solo is my blue Anderson.

Tis so Sweet

I came up with the majority of this arrangement ~15 years ago and never made the time to record it. While working with Chase Oaks Church, they asked me to play some "big ambient" parts. I came up w/ a patch on my Kemper and was inspired by how good it sounded with my tele using the middle position. This was the first take w/ no punches. It's not perfect, but I think it's one of the strongest tracks on the record. Variations of the same Kemper patch were used through out the record.

Turn Your Eyes Upon Jesus

I took the most liberties with this one. Somehow I got the idea to harmonize the melody in thirds like the intro to "I am the Walrus". The result is basically the turnaround from "Lady Bird", a popular jazz standard. I thought that was really neat and it works great as an interlude for the song. I also decided to keep the mind-expanding harmonized melody on the third time through the chorus. I love how CRAZY it sounds. I did my best to get a Hendrix vibe by using my white strat and dubbing the bass notes on a piano.

Come Thou Fount of Every Blessing

I came up w/ this arrangement about a week after I recorded Tis So Sweet. It messes with the meter a lot, but it's not everyday you hear a song that bounces from 4/4 to a chorus that alternates 5/4 & 6/4. This was inspired by Lesslie William's version of the song that's in 5/4. This was a first take w/ no punches. At the time I planned to redo it, but it's grown a lot and I like how vulnerable and emotional the guitar sounds.

Fairest Lord Jesus

Maybe my third favorite of the bunch. There's a great recording of Christopher Parkening playing this on YouTube, and that's what made me want to come up with my own arrangement. I recorded this w/ my fake Klein guitar w/ the bridge humbucker and middle single coil (3 coils combined). It's my favorite sound on this guitar. The ergonomics helped out a lot too because this one has some painful left hand stretches.I intended to have a solo during the e, but I left it out because it felt more powerful with the groove and chord progression being the focus. I also moved it to Eb because too many of the songs were in the key of D. Fun fact, Great is Thy Faithfulness was tuned down a half-step to Db for the same reason. 

Oh How I Love Jesus

Shamelessly going for the Clapton Unplugged type of vibe. We used to play a similar arrangement of this at HPUMC. This is the first recording I've made where I'm happy with the sound of the mic'ed acoustic.

Joyful, Joyful

That's right, this arrangement is from the movie Sister Act 2. :) I really enjoy this version of the song. I used my blue Anderson for the rhythm and melody parts and my Cobra on the solo. It was straightforward and fun to record.

Blessed Assurance

This is an arrangement by Eric Willis that we played back in the day at HPUMC. I wanted to make it more blue grassy for the recording. I'm not sure I really succeeded, but I like how the acoustics came out. I bought the cajon and shakers for this recording, and I learned that God did not intend for me to be a percussionist. I recorded and re-recorded this one probably 15 times, and really struggled with it. The electric guitar used is my Cobra in the middle position. The pickups are split in the beginning and on full towards the ending. It suffers from some over-playing, but that's kinda what I do.

Great is thy Faithfulness

This is straight out of the hymnal that I got on my last Sunday at HPUMC. I couldn't get through it w/ out a couple punches. It's not perfect, but it's the only one that's one of these hymns that's done in the traditional style. Adding the bass guitar track really helped round it out and make a bigger, organic sound. I used the bridge pickup on my Cobra which amplifies every little nuance, for better or worse, of the guitar.
Older Projects: 
Chicken Pick'n Blues – Take 2:
Video Game Tunes
All of these tunes were written and recorded for my brother-in-law's various video games. I had a blast working on each one of these.
Big Problems Little Asia
A request was made for a tune that "kicks ass" that could accompany a promo video. The point was to get people pumped up for the game. I think this stands out as the best one of these I've made.
Asia 4×3
More of a laid-back tune and also one of the better sounding ones. I really like the way the bass turned out on this track. Also the guitar tone at the end is pretty solid too.
Master Beef
This tune was inspired by the music from the original Halo game for the Xbox. This was my second one of these to record and one of my favorites. I should probably re-record the tracks as there's quite a lot of clipping.
Chrome
This one is my wife's favorite. It doesn't have the best fidelity, but it develops better than the rest of these tunes. I'm very pleased w/ how the song reaches it's climax around 3:00.
Kathonk
This tune sort-of fell out of my head while I was playing w/ an octave pedal on my M9. The 'B' section is the same chords as one of my favorite Depeche Mode songs. D'oh!
D-tune
Meant to be used under credits. I never really had time to finish this one. These are the original scratch tracks. Not too shabby for one night's worth of work.
VG2
First "official" one of these to record. I think this would be awesome under a first-person shooter. This was probably recorded in 2010 or 2011, and I came up with the main riff while taking a shower.
Testing????
This was the first pass w/ the scratch tracks from VG2. I wanted to see if this music would be viable backing a video game, so I placed awesome sounds from some of my favorite games as a child on top. It still makes me laugh.
---
Havi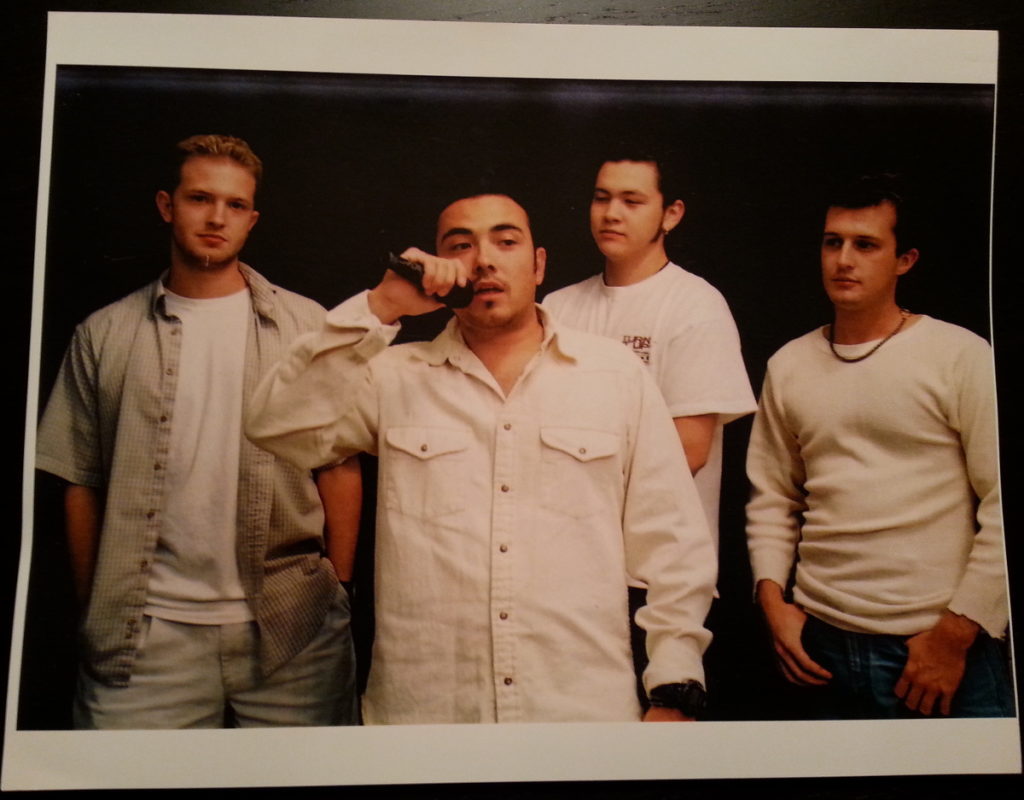 These were good times for me. I knew each of these guys well and had played with them in various settings. We got together and started recording some of Xavi's tunes at Brad's house. The recording quality & mix isn't very good (Alesis ADAT – remember those!!), but I still love these songs. A couple years ago I encouraged Xavi to publish these, but I don't know if he ever did.
80 mph
All My Candy
Fare the Well
Sail On
---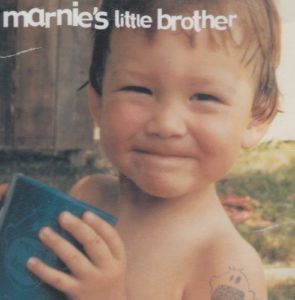 Great times with this band.