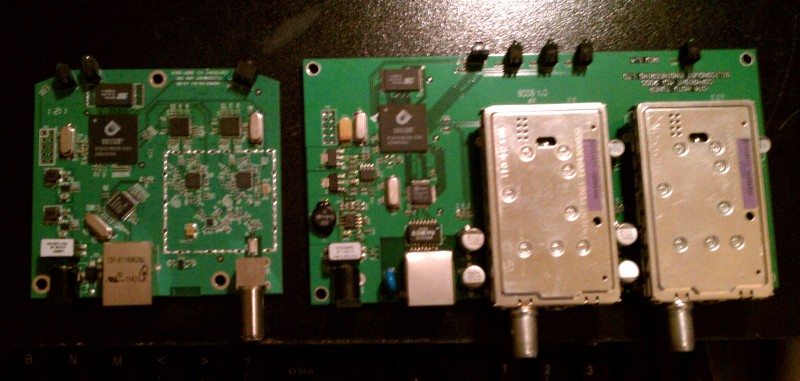 The updated board is 1/3rd the size

The HDHR3 has a dual tuners, but only uses a single coax input.
The HDHomeRun by Silicon Dust has been my favorite tuner for MythTV for several years now. I think I got it back in 2007 or 2008. It has a fantastic set of cross-platform software including a robust command line utility. Silicon Dust has also done a great job of releasing regular firmware updates that have added new features and increased the reliability, even for the older devices. I also really love the flexibility of having a tuner available on my network as apposed to the traditional PCI cards. Over the air (OTA) streams run right at 20Mb so four simultaneous streams can easily happen on a 100Mb network and many more on a gig+ network.
I bought another HDHR a couple days ago and I'm really liking the new design. There's only a single coaxial input for *both* tuners. Which is great because the less cables I have to run the better. Adding another HDHR to MythTV was incredibly easy, and the recorded shows look crystal clear (as expected). I hope to have another more interesting HDHR post soon.
Cheers.