I bought my first Amazon Fire TV in the summer of 2014, and 2.5 years later I'm still loving this device. In fact, I liked it so much that I moved my whole house over to Fire TVs: living room, bedroom, and a fire stick in the playroom (all 1st gen). These are primarily used for streaming content, e.g. Netflix, Amazon Prime, etc, mythtv front-end for over-the-air TV via Kodi, and now video games!
Blast from the Past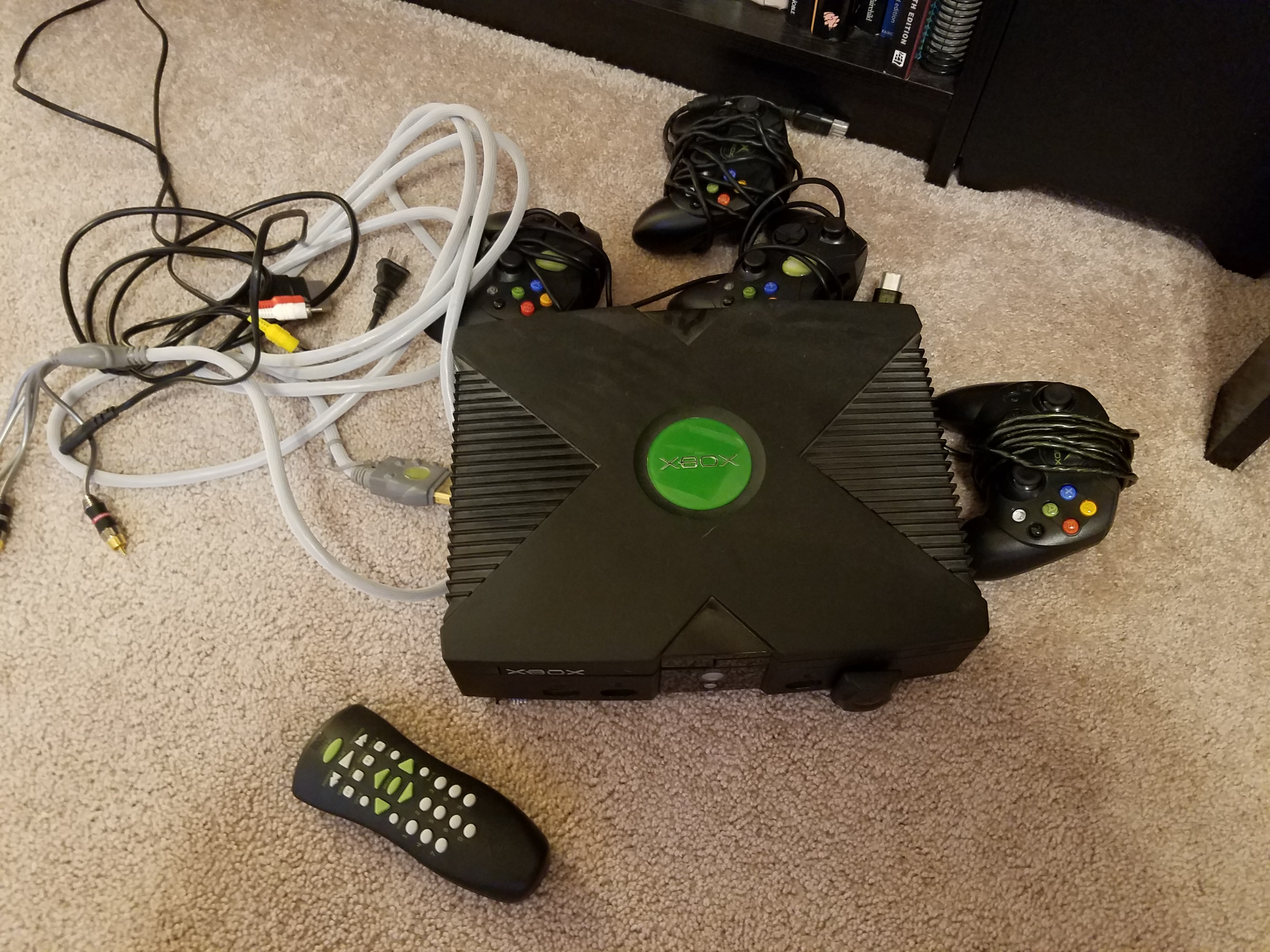 I've had quiet a run w/ my ~13 year old original, modded Xbox. It's an impressive piece of hardware, and I'm really glad I bought it. I upgraded the 10GB hard drive with a 120G Seagate IDE (remember those? I can't believe it spins). Apart from the after market chip & firmware, I added the ability to power it on via the remote, a high-end quiet fan, passive GPU cooling, and insulated the case with cork board to make it quieter. I ran xbmc (pre kodi) on it and it worked really well with mythtv, emulators, DVD player, and of course Halo 1 & 2.
It started showing it's age when I started recording HD broadcasting with mythtv. The old P3 733 processor just isn't powerful enough to decode "HD" mpeg2 files. In my experience you need at least a fast p4 or dual core processor to decode HD streams without GPU acceleration. That would have been around 2006. From then on it was just a really fun "vintage" gaming system. I don't play games that often anymore, but I get to enjoy it 3 or 4 times a year.
So why decommission it now?
1) Audio problems. I have to turn my speakers to 99% just to hear it. Very strange.
2) Network issues. For some reason when the Xbox has network access, the system freezes after ~30 seconds. The timing makes it difficult to troubleshoot, and honestly it's not worth the trouble. I suspect it's actually related to xbmc, but again, I'm not investing any time here.
Onward and upward:
Earlier this year I received a Raspberry Pi 3 and I was thinking of loading RetroPie on it. That would probably be a great setup as well, but I was looking at the specs and realized it's very similar to my Fire TV. I've read the new Pies make great emulators, but I wanted to see how well the Fire TV would work and further consolidate devices. Really all I needed to purchase were some controllers and a little bit of storage. After doing some research I settled on using wireless Xbox 360 controllers because they're natively supported on the Fire TV. Initially I didn't realize they required an additional USB receiver (D'uh! they're not bluetooth), and since the unit only has a single USB port this necessitates getting an inexpensive hub.
Hardware:
Apps:
From the Google Play store you can grab any of Robert Broglia's emulators (NES, SNES, Atari, etc). They're the best and the paid ones are very inexpensive.
Mupen64Plus FZ. This is by far the best N64 emulator and is actively being developed. Make sure you tip the developers for their hard work.
Applications can easily be side loaded on the Fire TV using an app like Apps2Fire. It trivial to use and makes it really simple to load these applications. One thing worth noting here is I did run into trouble moving some emulators from my newer cell phone & tablet. I happened to have an old Galaxy S5 laying around the house, which is also ARM v7, and the apps load perfectly. This shouldn't be an issue if you're using a newer 2nd Gen Fire TV.
I went a little over $100 , and the results were worth every penny. Graphics for a lot of these games render so much better on this hardware than the old Xbox. I had forgotten how crisp some of these games are supposed to look! I highly recommend this setup if anyone is looking to do something similar. The 1st gen Fire TV is an incredible piece of hardware and I'm amazed that it's still going strong after 2.5 years.